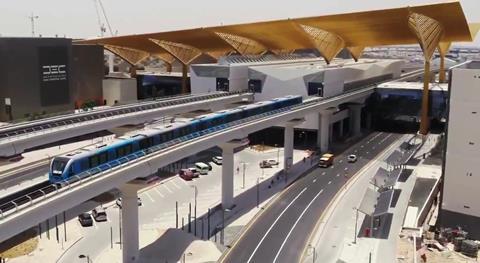 UAE: Dubai's 15 km Route 2020 metro line was formally inaugurated by the emirate's Ruler and UAE Prime Minister Sheikh Mohammed Bin Rashid Al Maktoum on July 8, although revenue services are not expected to begin until September.
Built at a cost of 11bn dirhams, the Red Line branch has been developed to serve the Expo 2020 site and encourage new housing and commercial developments, but it will later be extended to Al Maktoum International Airport.
The automated metro has been built by the Alstom-led ExpoLink consortium, which includes Acciona and Gülermak. Starting from a four-platform interchange with the existing Red Line at Jebel Ali, it includes 11·8 km of elevated alignment and 3·2 km in tunnel. The intermediate stations at The Gardens, Discovery Gardens and Al Furjan are elevated, while Jumeirah Golf Estates and Dubai Investment Park are underground. The airport extension would add a further 3·4 route-km.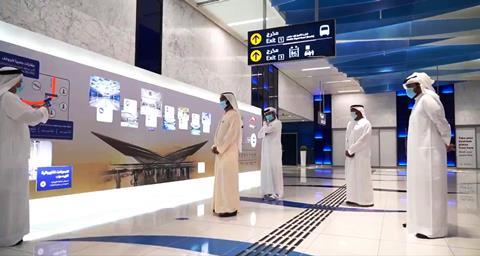 All of the stations are provided with bus and taxi interchanges. RTA says the underground station at Jumeirah Golf Estates is the biggest on the metro network; it is intended to form the centrepiece of a transit-oriented development totalling 360 000 m2 with residential, hotel, commercial, retail and office accommodation.
According to RTA Chairman & Director General Mattar Al Tayer, the Route 2020 branch has a capacity of 23 000 passengers/h per direction, and serves a local population of around 270 000 inhabitants. Ridership is expected to reach 125 000 per day in 2021, and 275 000 by 2030. During the Expo 2020 event, the line is expected to carry 35 000 visitors per day on weekdays, and 47 000 per day at weekends, equivalent to 29% of all Expo visitors.
As part of the project, Alstom has supplied 50 five-car Metropolis trainsets from its Katowice plant. Of these, 15 are intended for the branch and 35 to boost frequencies on the existing lines. Externally similar to the original trains with Gold Class, Silver Class and segregated accommodation for women and children, these have a revised interior layout increasing the nominal capacity by 8% from 643 to 696 passengers.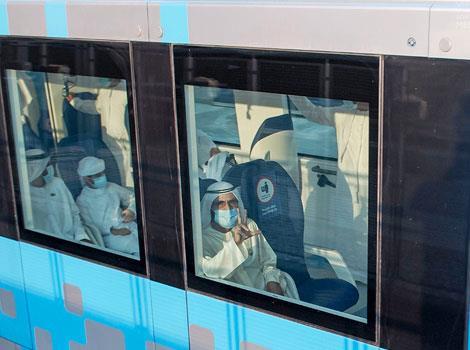 Alstom has installed 15 HESOP substations across the new branch and the existing Red and Green lines. These will recover regenerated braking energy from the trains to feed the station ventilation and lighting systems as well as the lifts and escalators. RTA predicts that this will reduce the metro's annual power consumption by 6·6 GW per year, saving around 3 000 tonnes of carbon emissions and cutting operating costs by 3m dirhams/year.
Static testing of the new line has been completed and dynamic testing is underway. RTA says a third phase of system reliability testing is expected to begin shortly, and will be followed by a 14-day period of full operation without passengers before the start of revenue service in September. Opening of Route 2020 will take Dubai's rail network to 101 route-km, comprising 90 km of automated metro and 11 km of tramway.
'We announced the Red Line extension 47 months ago', said Sheikh Mohammed at the inauguration. 'Today we are launching our project: 50 trains, seven stations, 12 000 engineers and technicians and 80 million hours to complete our work on time as we promised. We say what we do and we do what we say.'