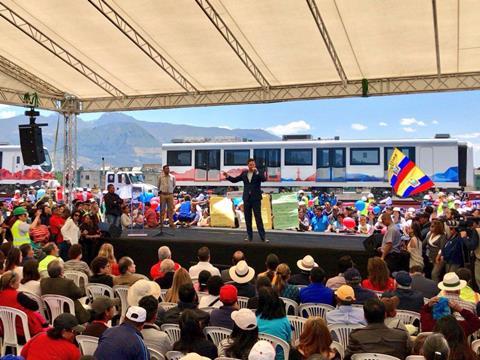 ECUADOR: On September 6 the first of 18 metro trainsets being produced by CAF arrived to Quito.
The six-car trains are being supplied to operate the city's first metro line. CAF was awarded a contract on July 15 2016 under a US$183m agreement financed through a credit agreement between Spain's Instituto de Crédito Oficial and Ecuador's Ministry of Finance. The contract also covers depot equipment.
The 109 m long trainsets are formed of four motor cars and two trailers, with a maximum speed of 100 km/h. Passenger capacity is 1 259 people, of which 144 can be seated. The trains have wide walk-through gangways, wi-fi and CCTV.
Quito Line 1 will be 22 km long and serve 15 stations between Quitumbe and El Labrador, offering a 34 min end-to-end journey time. Construction work began in January 2013 but progress has been slow because of archaeological sensitivity in the city centre. Opening is scheduled for December 2019, when ridership is predicted to be 377 000/day.