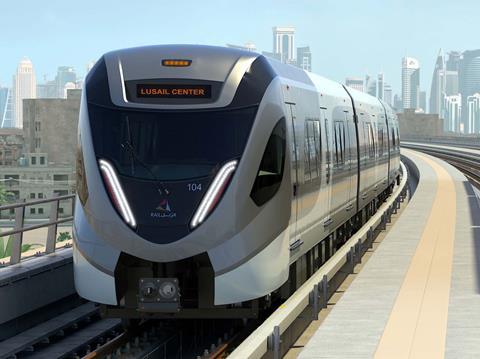 QATAR: The first phase of the driverless metro network in Doha has been completed, with the opening of the third line and two extensions of the first route on December 10.
The 22 km Green Line runs from Al Riffa in the west to Al Mansoura in the city centre, serving 11 stations. The line is mostly underground, with 5·4 km at the western end on an elevated alignment.
Two extensions of the Red Line opened on the same day. A one-station branch runs from Oqba Ibn Nafie to Hamad International Airport Terminal 1, and a northern extension takes the line from Al Qassar to Lusail. This includes a station at Legtaifiya, due to open next year, that will provide interchange with the Lusail tram network.
The first section of the Red Line opened on May 8. The north-south route is now 40 km long, with 23·4 km underground.
The Red and Green lines connect at Msheireb, where interchange is also provided with the Gold Line, which opened last month. That 14 km east-west route serves 11 stations.