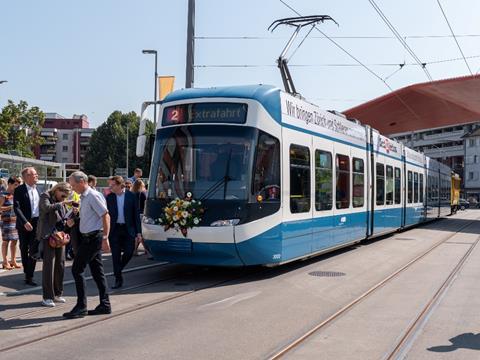 SWITZERLAND: The first section of the Limmattalbahn light rail line serving Zürich opened to passengers on September 2.
The initial 2·9 km section serves seven stops between Farbhof and Geissweid in western Zürich, and is operated by VBZ as an extension of tram route 2.
When complete, the Limattalbahn will run for 13·4 km from Altstetten in Zürich to Killwangen-Spreitenbach, serving 27 stops. The whole route is scheduled to open in December 2022 and will be operated by BDWM Transport.
The project is being led by Limmattalbahn AG, which is jointly owned by the cantons of Zürich and Aargau. The two cantons are financing the work, with Zürich contributing 48·75% and Aargau 16·25%. The federal government is providing the remaining 35% of the SFr755m cost (excluding rolling stock).
Stadler is supplying eight seven-section bidirectional light rail vehicles to operate the metre-gauge route. These will be stabled at a depot that is being built on a site near the SBB marshalling yard between Dietikon and Killwangen-Spreitenbach, on the border of Zürich and Aargau cantons.