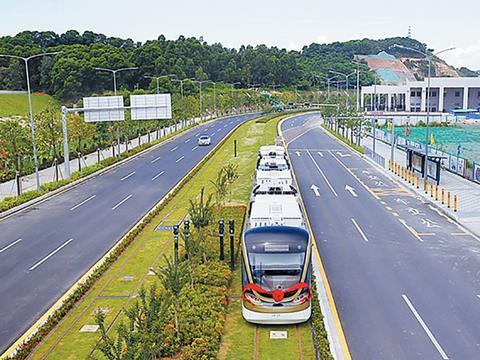 CHINA: A tram network in the Longhua district of Shenzhen opened for revenue service on June 29.
The route runs from the northern terminus of metro Line 4 at Qing Hu to Guanlan, which is on the metro line's northern extension to Niuhu, due to open in 2020. The 9·2 km route has 15 stops. A 2·7 km branch with five stops runs east from Huanguan South Road to Xia Wei.
Construction began in December 2013, although the build-operate-transfer PPP concession was signed between Shenzhen Metro Group and China Railway Construction Investment Group in July 2015. Construction cost 1·38bn yuan.
Services are operated with a fleet of 15 four-section trams. The first was delivered to the Hengken depot in March, and dynamic testing started in May. The trams are 36 m long and 2 650 mm wide with capacity for 300 passengers. Maximum speed is 70 km/h. The vehicles are equipped with supercapacitors supplied by Siemens, which are charged at stops from overhead wires to enable catenary-free running between stops.
Ridership is forecast at 32 million passengers a year. Further tram routes totalling 51 km are planned to be built in Longhua.