USA: Major construction work on the 14·6 km Foothill Gold Line extension of Los Angeles' L Line light rail route was launched on July 10.
The extension from APU/Citrus College to Pomona is scheduled for completion in 2025, adding four stops in Glendora, San Dimas, La Verne and Pomona.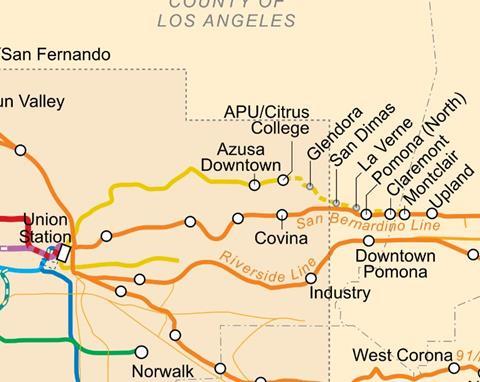 If additional funding can be secured by October 2021, a further planned 5·1 km extension to Claremont and Montclair could be completed by 2028.
Construction is being undertaken by a joint venture of Kiewit and Parsons under a design-build contract awarded by the Foothill Gold Line Construction Authority in August 2019. The same companies built the first two sections of the Gold Line, with the 21·9 km from Los Angeles Union station to Pasadena opening in July 2003 and the 18·3 km extension to Azusa and APU/Citrus College following in March 2016.
Between Glendora and Pomona, the light rail line will parallel an existing BNSF freight corridor also used by Metrolink commuter rail services. The project requires relocation of the freight tracks, installing a pair of electrified light rail tracks, rebuilding 21 level crossings, building or renovating 19 bridges and constructing four stops incorporating 'unique artwork' by locally-selected artists.
The extension is being funded by a sales tax approved by voters in 2016, as well as state greenhouse gas reduction funds. It will provide connections to regional destinations including the LA County Fairplex events venue, numerous colleges and universities, as well as museums and parks. It will also provide a direct interchange between the Metro and Metrolink commuter rail networks at Pomona North.
Los Angeles Mayor Eric Garcetti said the Foothill extension was 'a down payment on a more connected, dynamic, and equitable future for Angelenos, and it will pave the way to good-paying jobs and a stronger transportation network across our region.'