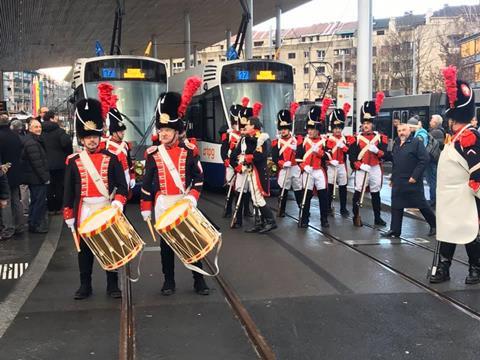 SWITZERLAND: A cross-border extension of Genève's tram network was inaugurated on December 15.
The 2·5 km extension east from Moillesulaz on the border to Annemasse-Parc Montessuit serves four stops in France and is operated as route 17. Construction started in October 2018 and cost €57m.
A three-stop extension from Parc Montessuit to Lycée des Glières is scheduled to open next year at a cost of €28·6m. Funding is shared between the Swiss confederation (44%), the département of Haute-Savoie (22%), the Annemasse-Les Voirons agglomeration (19%), the French state budget (12%), the European Regional Development Fund's Interreg programme (2%) and local communities along the route (1%).
The Léman Express cross-border suburban network serving Genève and Annemasse began regular operation the following day. The 10 km cross-city rail link connects SBB's main station with the isolated Eaux-Vives terminus of a branch line from Annemasse.