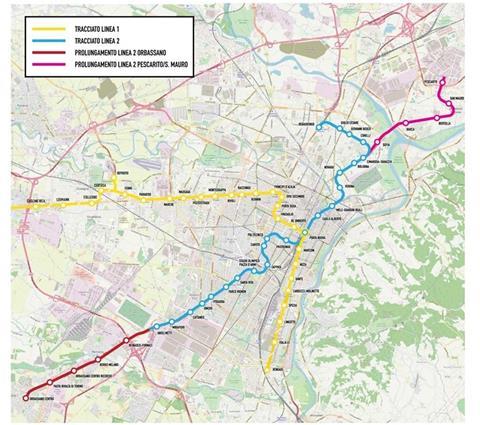 ITALY: Deputy Minister of Economy & Finance Laura Castelli confirmed on October 31 that the government has allocated €828m towards the construction of a second metro line in Torino.
The planned Line 2 would serve 23 stations on a 26·5 km route from Rebaudengo in the north to Anselmetti in the southwest. Interchange with the city's existing rubber-tyred light metro line would be provided at Porta Nuova.
The total project cost is estimated at €3bn. The recently announced government funding, to be disbursed between 2020 and 2032, would cover the planning phase and initial construction works. The balance of funds could come from the private sector. Construction is to begin in 2021, for completion in 2028.
In the longer term, two five-station extensions are planned. One would take the line southwest from Anselmetti to Orbassano, while the other would form a branch to San Mauro-Pescarito in the north.