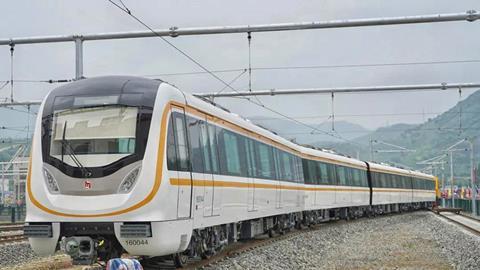 CHINA: More than 70 km of new metro line was put into operation in Hangzhou on April 23, taking the total length of the city's network to 209 km and 133 stations.
Both eastern and western extensions have been added to Line 5, more than doubling its length. This route has been built and is being operated by Hong Kong's MTR Corp under a 25-year PPP concession; the first section was inaugurated on June 24 2019. MTR also operates Hangzhou Line 1.
In the west, Line 5 has been extended from Liangmulu to Jinxing, adding 6·5 km and four stations. At the other end of the route, a 29·9 km extension from Shanxian takes the line south through the city centre and then east to Guniangqiao. This section includes 23 stations, although two remain unopened. The two additions take the operational length of Line 5 to 53·6 km. A further 2·5 km western extension from Jinxing to Laoyuhang remains to be completed.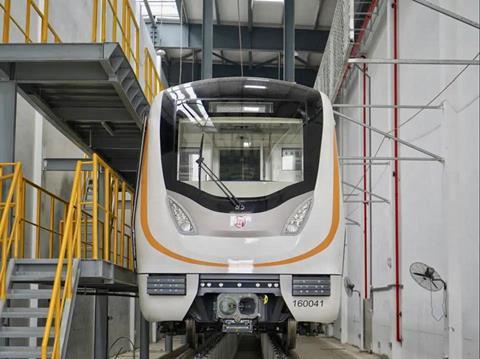 In the west, Lutinglu provides interchange with Line 16, which opened on the same day. The eastern extension includes interchanges with Line 1 at Datieguan, Chengzhan and Binkanglu, with Line 2 at Jianguo Beilu and People's Square and with Line 4 at Nanxingqiao.
Line 5 is operated by a fleet of 61 six-car Type A trains supplied by CRRC Nanjing Puzhen, each of which has capacity for 1 584 passengers and a crush loading of 2 260. These are stabled in two depots at Wuchang in the northwest and Guniangqiao at the eastern end of the line.
The 35·1 km Line 16, with 12 stations, serves the city's far western suburbs, starting from an interchange with Line 5 at Lutinglu and running to Jiuzhou Street in the Lin'an district, where the depot is located. The 14·8 km central section of the route between Nanhu and Babaili is elevated. With trains running at a maximum speed of 120 km/h, the end-to-end journey time is just 35 min.
Under construction since early 2016, the route was originally promoted as the Hangzhou – Lin'an Intercity Railway; it was redesignated as metro Line 16 in September 2019. Operator Hangzhou Metro began test running in November, using a fleet of four-car trains also supplied by CRRC Nanjing Puzhen.