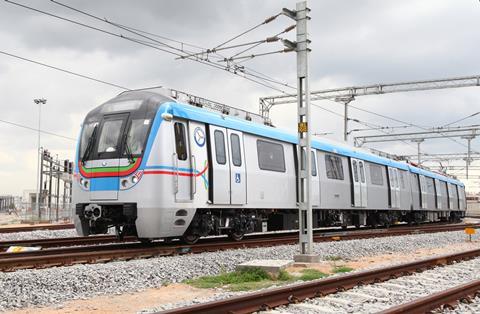 INDIA: Hyderabad Metro's 11 km Green Line was formally opened by the Chief Minister of Telangana state Kalvakuntla Chandrashekhar Rao on February 7.
The north-south elevated route with nine stations serves the eastern side of the twin cities of Hyderabad and Secunderabad. It starts from an interchange with the east-west Line 3 at Jubilee Bus Stand in Secunderabad and runs south to meet Line 1 at Mahatma Gandhi Bus Station in Hyderabad. End-to-end journey time is 16 min.
The 71 km first phase of the network is being developed by Larsen & Toubro subsidiary L&T Metro Rail (Hyderabad) Ltd under a PPP concession awarded in 2010. Electrified at 25 kV 50 Hz, the line is fitted with CBTC supplied by Thales and operated with Hyundai Rotem trainsets.
Work has not yet started on the final 5·2 km section of the Green Line running south through the old city of Hyderabad from Mahatma Gandhi Bus Station to Falaknuma Palace. This had earlier been expected to open in 2022.