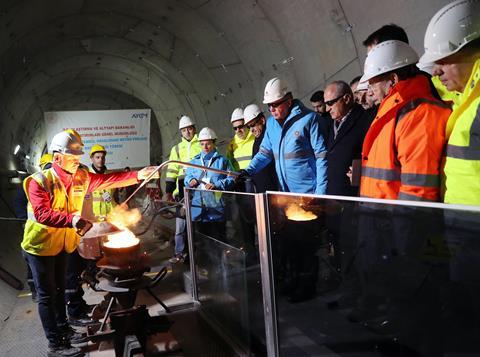 TURKEY: The start of tracklaying on metro line M11 to Istanbul's main airport was officially marked when President Erdoğan attended the welding of a ceremonial first rail at the future Gayrettepe terminus on January 18.
The 37·5 km line is being built by a consortium of Kolin and Şenbay under a December 2016 contract valued at €999·8m.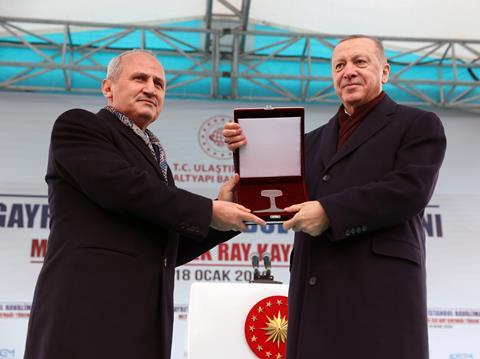 Civil works are largely complete, including the construction of tunnels using earth pressure balance tunnel boring machines, cut-and-cover techniques and the New Austrian Tunnelling Method. Fitting out of the nine stations and the installation of track, CBTC and telecoms equipment is now underway.
The line will be equipped for GoA4 (unattended) automated operation, with an operating speed of 120 km/h and a minimum headway of 300 sec. This will provide a 35 min journey time from Gayrettepe to the airport.
The opening of the line had originally been planned for November 2019, but is now expected in August 2021.
Three lines
The airport, which opened last year, is designed to handle up to 200 million passengers/year and will eventually be served by two metro lines and a main line rail link.
Construction of a five-station metro line connecting the airport with the terminus of the Marmaray suburban corridor at Halkalı began in September 2019 and is expected to be completed in 2022. A consortium of Özgün Yapı and Kolin has been awarded a €756m contract to supply the electromechanical systems for the line.
Tenders have not yet been called for the planned railway from Halkalı to the airport. This would form part of an outer city bypass running over the Yavuz Sultan Selim Bridge across the Bosporus and connecting with the Asian rail network at Gebze.