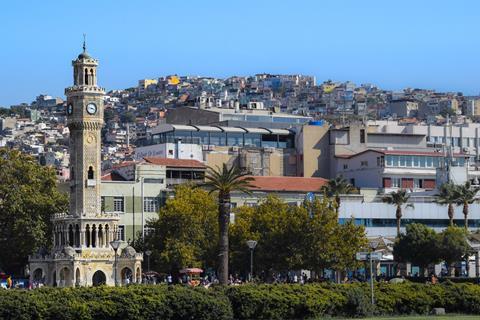 TURKEY: Seven companies or consortia have applied to prequalify for the contract to build İzmir's planned Otogar – Kemalpaşa metro line.
The 27·5 km line with 19 stations will link the inter-city coach station with the future Ankara – İzmir high speed rail line and the existing Otogar – Halkpinar light rail line.
The potential bidders are:
Kaiser Mühendislik ve Müşavirlik;
Tekfen Mühendislik;
Yüksel Proje Uluslararası;
Team Group;
Su-Yapı Mühendislik ve Müşavirlik and Metro İstanbul Sanayi ve Ticaret;
SWS Engineering and Tümaş
Prota Mühendislik Proje Danışmanlık Hizmetleri.
Subject to meeting the tender requirements, they will be invited to submit technical proposals and then if these are considered suitable they will be invited to submit financial bids.
It is envisaged that construction would take two years from the signing of a contract.
Announcing that tendering for the Otogar – Kemalpaşa project was underway, Mayor Tunç Soyer said the municipality was continuing with studies started late last year for another planned metro line lining Karabağlar to Gaziemir.
The municipality has also called tenders for final design of the planned 5 km nine-stop Örnekköy – Girne tram line.