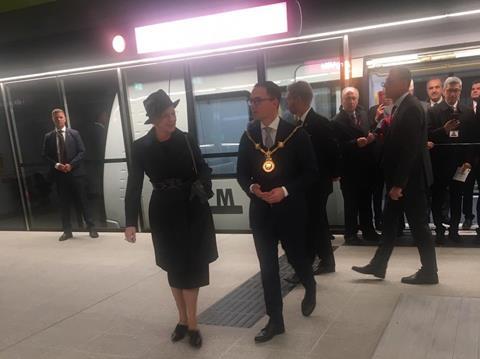 DENMARK: The capital's third automated metro line M3 was formally inaugurated by Queen Margrethe on September 29, with a formal ceremony at Radhusetplads and public celebrations at Kongens Nytorv, followed by free rides for the rest of the day.
Branded as Cityringen, the 15·5 km orbital Line M3 connects the Nørrebro, Vesterbro and Østerbro districts with the city centre and the main station at København H. There are 17 stations, including interchanges to Lines M1 and M2 at Frederiksborg and Kongens Nytorv. Journey time for a complete loop is 24 min.
Like the city's first metro lines, Cityringen has been built by an Italian consortium, with Salini Impreglio subsidiary CMT responsible for infrastructure works and Hitachi Rail STS the automation and train control systems which permit a minimum headway of 100 sec. A fleet of 39 three-car trainsets has been supplied by Hitachi Rail Italy. Following the completion of fitting out, the line was formally handed over to the city's metro authority Metroselskabet in July for final testing and commissioning.
Cityringen has been under construction since 2011. Four earth pressure balance tunnel boring machines were used to excavate 31 km of 5·8 m diameter tunnels between 2013 and 2016. These run at an average depth of 30 m below the surface. As well as the running tunnels, there is a 1·9 km branch to the maintenance and control centre at Sydhaven, which is the only part of the line above ground. This spur will form part of the future Line M4, which will see it extended to Ny Ellerbjerg with five stations, as well as a northern branch from Østerport to Nordhavn.