GERMANY: The cross-city tram tunnels in Karlsruhe were opened for revenue service on December 11, with Verkehrsbetriebe Karlsruhe operating its first trams through the link from 14:30 and its regional partner Albtal-Verkehrs-Gesellschaft starting the following day.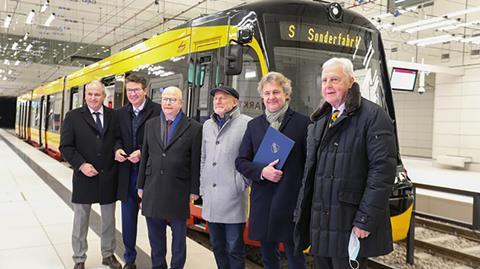 Because of the coronavirus pandemic, there was no major celebration to mark the opening. A small ceremony at the underground Marktplatz stop was attended by Michael Theurer, the new Parliamentary State Secretary at the Federal Ministry of Transport & Digital, Baden-Württemberg Transport Minister Winfried Hermann and the Lord Mayor of Karlsruhe, Frank Mentrup.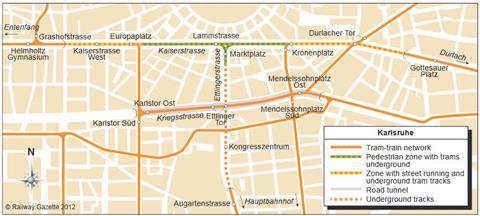 Built at a cost of €1·5bn, the 3·6 km of double-track tram tunnel serving seven fully accessible stops has taken 12 years to complete. The underground network includes a 2·4 km east-west tunnel and a triangular junction at Marktplatz leading to a 1·2 km north-south spur.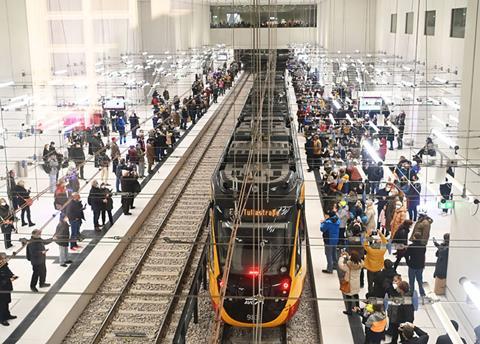 The underground stops are 100 m long, with an 80 m platform at 340 mm above rail offering level boarding for the city's low-floor trams. A 5 m ramp leads to a 15 m section with a platform height of 550 mm, providing barrier-free access to the first two doorways of AVG's regional tram-train LRVs, which have a higher floor level.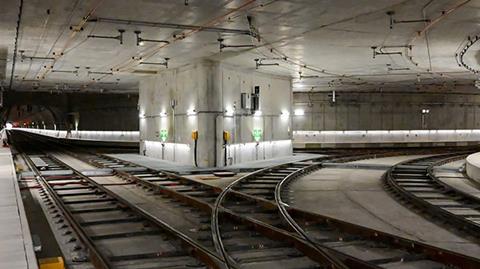 The tram tunnels have been built as part of a multimodal transport package known as Kombilösung, aimed at relieving road congestion in the city centre. This was approved by Karlsruhe citizens in 2004, with a 55·6% vote in favour. A groundbreaking event was held on January 21 2010.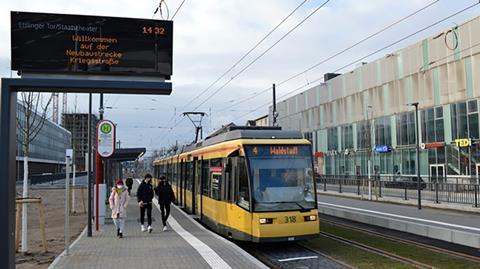 As part of the project, a 1·6 km surface tram line with three stops has been built along Kriegsstraße, linking Ostendstraße and Karlstor. This sits above a 1·4 km road tunnel which is expected to open in March 2022.
Unlike the surface tracks where trams are driven on sight, the tunnels are fitted with a fixed signalling system. An analogue private radio network with transmitters in the tunnels supports the Mobile-ITCS operations control system developed by INIT. That provides the same functionality for operational monitoring, vehicle positioning, passenger information and data communications as the company's Intermodal Transport Control System used by both KVB and AVG above ground.