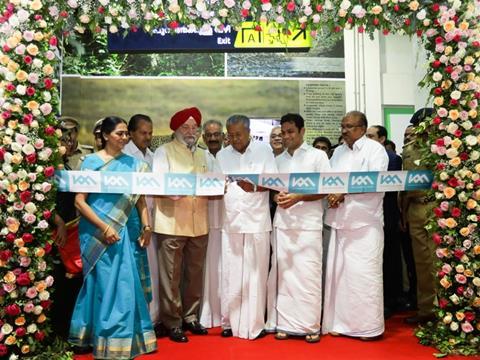 INDIA: A further 5·6 km section of the Kochi metro opened for revenue services on September 4, following a formal inauguration the previous day by the Chief Minister of Kerala Pinarayi Vijayan and Minister of State for Housing & Urban Development Hardeep Singh Puri.
Running from the previous terminus at Maharaja's College to Thykoodam, the new section runs through the city centre and out to the southeast, adding five stations including an interchange to Indian Railways' important hub at Ernakulam Junction. A 90 m single-span balanced cantilever bridge carries the metro across the main line tracks at Ernakulam South.
Opening of the third section leaves just 1 km between Thaikoodam and Petta to complete the 25 km Phase I; this is expected to be ready by January 2020. Meanwhile, groundbreaking ceremonies have been held for the start of work on a further 1·5 km extension from Petta to SN Junction.
Alstom has now delivered the last of the 25 three-car trains for Phase I, which have been assembled at the company's Sricity factory in Andhra Pradesh. Each 66 m long train has 136 seats and a crush load capacity for 975 passengers.
Speaking at the inauguration, Hardeep Singh Puri reported that 873 km of metro lines had been built or were under construction in 27 cities. He believed that the construction of more metro and light metro networks was 'inevitable', as more than 600 million Indians would be living in urban areas by 2030.