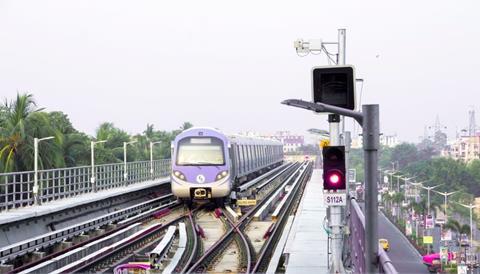 INDIA: The first 5·7 km section of Kolkata's second metro line was formally inaugurated by Minister of Railways Piyush Goyal on February 13, with revenue service expected to start the following day.
Under construction since 2009 at an estimated cost of Rs90bn, the 16·5 km east-west line is intended to connect the city centre east of the Hooghly River with the Howrah district to the west, providing a link between Indian Railways' two principal stations at Sealdah and Howrah.
The first part of the line to be completed is the elevated section that runs from the eastern terminus at Salt Lake Sector V to Salt Lake Stadium, serving six stations in total; this had been expected to open in early 2019. The remaining 10·8 km of the line runs underground through the city centre before tunnelling under the river to reach Howrah Maidan. Operator Kolkata Metro Rail Corp currently expects the line to be fully operational by mid-2022.
Unlike the broad gauge Line 1, with which it will connect at Esplanade, Line 2 has been built to the 1 435 mm gauge adopted for most other Indian metro networks; this is intended to allow the use of standard technology. BEML has supplied an initial batch of 14 six-car trainsets, each of which has capacity for up to 2 068 passengers. Line 2 stations have been equipped with platform edge doors.