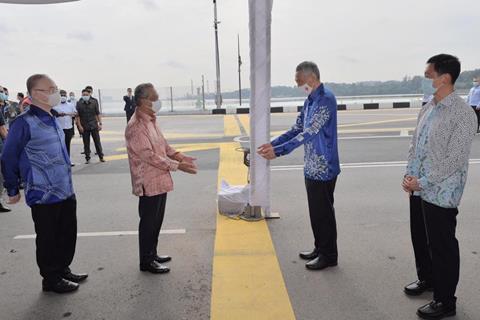 ASIA: A ceremony on the causeway linking Singapore and Malaysia on July 30 marked the official resumption of work on the Johor Bahru – Singapore Rapid Transit System Link Project to develop a high capacity urban rail corridor between the countries. Officials remained on their own sides of the causeway during the ceremony.
The project had been suspended on April 1 2019 at Malaysia's request, to allow more time for it to review the project.
Following discussions, a number of changes have now been agreed. The RTS Link will now be built as a standalone light rail line, rather than 'leveraging' Singapore's Thomson-East Coast metro line. It will no longer use the existing TEL Mandai Depot, and instead a depot will be constructed in Wadi Hana in Johor Bahru.
The planned capacity remains unchanged at up to 10 000 passengers per hour per direction.
Each government has separately appointed an infrastructure company to fund, build, own, maintain and renew the civil infrastructure and stations in its territory. Malaysia has now changed its InfraCo from Prasarana Malaysia to Malaysia Rapid Transit System, a wholly-owned subsidiary of Mass Rapid Transit Corp. Singapore's Land Transport Authority remains as the other InfraCo.
The stations will be 'well integrated' with the local transport networks, with co-located customs, immigration and quarantine facilities at the point of departure.
Fares will continue to be set by the operating company, and are to be determined closer to the opening date which has been put back from the end of 2024 to the end of 2026.
Agreements have been finalised to amend the RTS Link bilateral agreement, to form the RTS Operations joint venture of Singapore's SMRT and Malaysia's Prasarana, and to award RTS Operations a 30-year operating concession.
In a joint statement, the governments said the ceremony marked the culmination of several months of hard work to find a common way forward, and the resumption of work 'underscores the deep and enduring bilateral relationship between both countries, and the collective desire to strengthen our win-win partnership.'