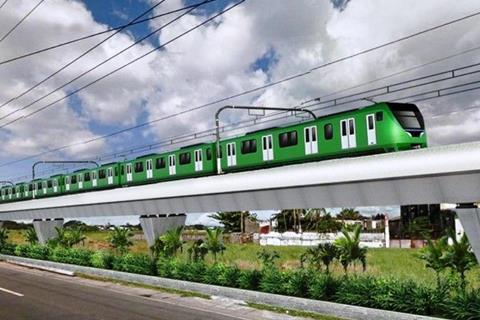 PHILIPPINES: Construction of the Malolos – Clark Railway Project is expected to ramp up rapidly, following the signing of a further three civil works contracts worth more than US$1·7bn.
The Department of Transportation has now awarded five civil works contracts totalling $2·5bn for the project to build a 53·1 km, double-track electrified 1 435mm gauge railway linking Malolos in the northern suburbs of Manila with the Clark Economic Zone and Clark International Airport in central Luzon province.
The 160 km/h elevated line is intended to cut the travel time between Clark in northern Pampanga province and Manila from between 2 h and 3 h by bus to 1 h by train, as well as reducing greenhouse gas emissions by more than 60 000 tonnes/year and boosting regional economic activity.
The first two civil works contracts were signed on August 1. The €330m Contract Package N-04 was awarded to Acciona Construction Philippines and EEI Corp and covers civil works for a 6·3 km section of the main line, a 1·6 km depot access spur and an underground station at Clark International Airport.
Package N-05 awarded to POSCO Engineering & Construction covers civil works for the Clark depot in Mabalacat, with the operations control centre, stabling yard, workshops, training centre and other ancillary buildings.
Under the first of the latest batch of three contracts awarded in September, the construction of 17 km of viaduct, seven balanced cantilever bridges and two stations under package CP N-01 is to be carried out by a joint venture of Hyundai Engineering & Construction, Dong-ah Geological Engineering and Megawide Construction.
The US$656m package CP N-02 covering 16 km of viaduct and the station at San Fernando was awarded to Acciona Construction Philippines and Daelim Industrial, while package CP N-03 covering 12 km of viaducts and two stations at Angeles and Clark was awarded to Italian–Thai Development.
A sixth contract, which covers the construction of Blumentritt station is to be rebid.
'The signing of these contracts means the Malolos – Clark Railway Project construction will now go on full speed, helping the country's economic revival over the next 12 to 24 months', said Asian Development Bank Director General for Southeast Asia Ramesh Subramaniam on October 8. 'When completed by 2025 based on current plans, we expect the project to benefit nearly 350 000 commuters daily.'
ADB approved financing of up to US$2·75bn for construction work in May 2019, and Japan International Cooperation Agency is to provide US$2bn of financing for the rolling stock and railway systems.
The project forms the second stage of the planned North – South Commuter Railway, a 163 km high-density corridor which would run across the Manila conurbation from Clark in the north to Calamba in Laguna province, southwest of the capital. This is expected to carry up to 1 million passengers/day by 2040.