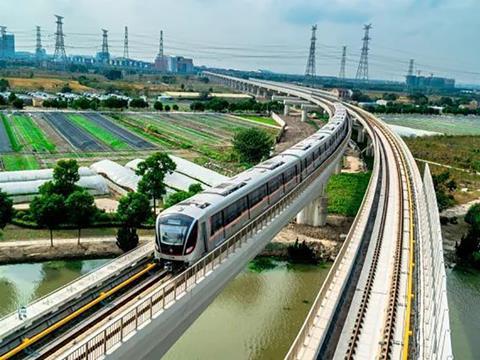 CHINA: The National Development & Reform Commission approved a metro line linking the Suzhou and Shanghai networks on September 6. The city approved the Line S1 project on August 28 as part of the Suzhou Urban Rail Transit Phase III Construction Plan.
The 41·3 km underground route would serve 28 stations including five interchanges. Construction is due to start in late 2018 for opening in late 2023 or early 2024, with an estimated project cost of 27·4bn yuan.
Line S1 would start in Suzhou at the eastern terminus of the future metro Line 3 at Weiting. The 45·3 km Line 3 has been under construction since December 2014 and is scheduled to open in December 2019. Line S1 would run southeast to Huaqiao at the western end of Shanghai metro Line 11.
It is envisaged that 100 km/h six-car Type A trainsets would operate Line S1. The fleet would be stabled at two depots.
NDRC has also approved Lines 6, 7 and 8 of the Suzhou metro.