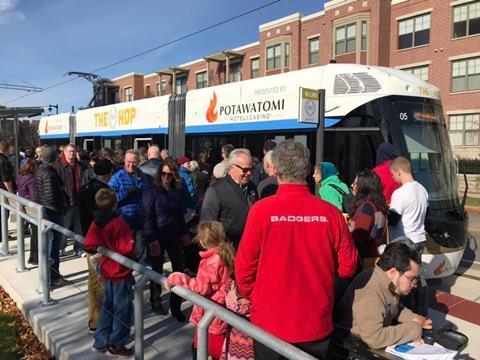 USA: The first phase of The Hop tram network in Milwaukee was inaugurated on November 2.
Travel on the 3·4 route-km route linking Burns Commons and Clybourne Street is free for a year as part of a sponsorship deal with Potawatomi Hotel & Casino.
Kiewit Infrastructure acted as general contractor for the construction works and Brookville Equipment Corp has supplied five three-section Liberty Modern Streetcars.
Services are operated by Transdev Services. These run at headways of around 15 min from 05.00 to midnight on weekdays, 07.00 to midnight on Saturdays and 07.00 to 22.00 on Sundays.
A second phase is planned that would link the Phase 1 route at Milwaukee Street with Downtown Transit Center on a 1·2 km branch.