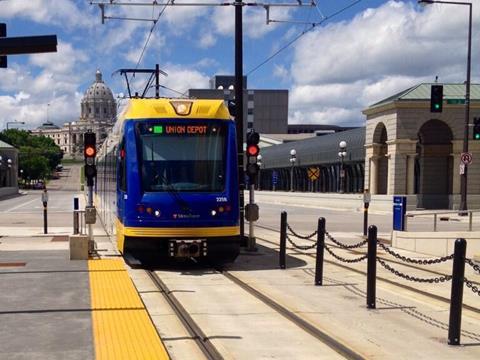 USA: The Twin Cities Metropolitan Council has invited bids for the first of three construction contracts to build the 23·3 km Southwest LRT light rail line between Minneapolis and Eden Prairie.
Tenders for the main civil works contract are due to be opened on August 15, with the contract expected to be awarded in November. The package includes construction or modification of the alignment, some of which follows an existing rail corridor, plus the construction of 29 new bridges and two cut-and-cover tunnels of 176 m and 670 m and the laying of 47 km of track. The contractor will also build 15 stations and eight car parks plus a multi-story parking facility at the South West Station terminus in Eden Prairie.
Metropolitan Council expects to order new specialty trackwork this month ready for work to start in 2018 on realigning the existing CP freight tracks in Hopkins and St Louis Park; this will make space for construction of a new bridge to carry the light rail line across the railway and Excelsior Boulevard. It hopes to call tenders later this year for construction of the operations and maintenance depot in Hopkins and for the power supply, signalling and communications systems.
Having already ordered 27 LRVs from Siemens in December 2016 at a cost of $118m, the Southwest LRT Project team is seeking authorisation from the Counties Transit Improvement Board to order key components with long lead times, so that the first vehicles can be delivered in 2019.
A formal start of work is still dependent on negotiating a Full Funding Grant Agreement with the Federal Transit Administration, which has given the project a 'medium-high' rating. Despite the federal government's current reluctance to fund new rail projects, Metropolitan Council expects to submit a formal application in September for half of the estimated $1·8bn cost and hopes to agree the FFGA in early 2018.
Read more about the Southwest LRT in the Spring 2016 issue of Metro Report International magazine, available to subscribers in our digital archive.