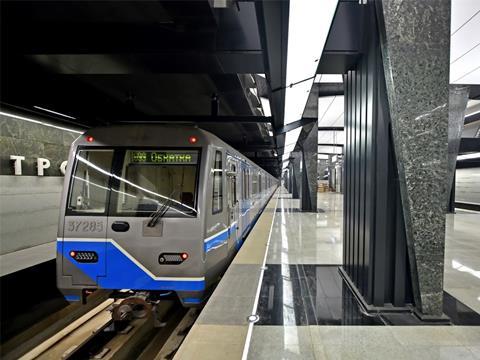 RUSSIA: The Moscow city authorities have announced plans to invest around 700bn roubles in metro projects in 2020-22, with majority of this funding to go towards network expansion.
The funding package includes completion of the 69 km circular Line 11, which will incorporate the existing 3·3 km line between Kashirskaya and Kakhovskaya. The Delovoy Tsentr – Khoroshyovskaya section would be operated as a branch, before becoming part of the future Line 13 in 2025. Line 11 is currently around half complete.
Other projects include a 3·7 km section Line 8 between Delovoy Tsentr and Tretyakovskaya that would connect the currently separate eastern and western sections, as well as an extension of Line 8 to Vnukovo Airport in the longer term. A southern extension of Line 1 to Novomoskovskaya and a northern extension of Line 10 to Fiztekh are also in the plans.
A total of 40 stations are to be added to the network by 2023, with 18 more envisaged in the longer term.
In 2011-19 the city spent 855bn roubles on metro expansion, and it expects to allocate a further 176bn roubles before the end of 2019.