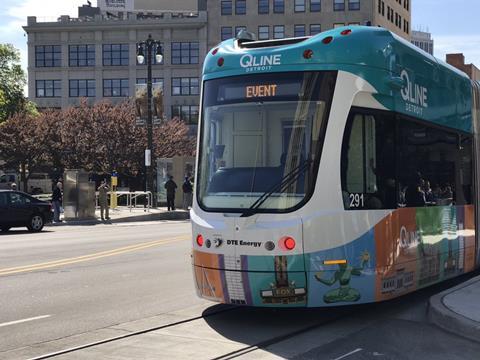 USA: The QLine tram route in Detroit opened to passengers on May 12, ahead of a weekend of celebrations and free travel.
The 5·3 km route runs along Woodward Avenue between Congress Street and West Grand Boulevard with 12 stops. It has been developed by M-1 Rail, a non-profit organisation formed in 2007 which claims the project is 'the first major transit project led and funded by private businesses and philanthropic organisations, in partnership with local, state and the federal government.'
'I'm confident this partnership bodes well for Detroit, and will continue serve as a model for the can-do attitude here', said Governor of Michigan Rick Snyder at the opening ceremony. 'The next generation demands transit in the areas we live, work, and play.'
Disadvantaged businesses accounted for 20% of the value of the project, said Representative Debbie Dingell. 'The goal was to ensure no discrimination, to create a level playing field for minority, women and disadvantaged businesses'.
Stacy & Witbeck was appointed general contractor for the line in 2013, and construction began with a groundbreaking ceremony in July 2014. The QLine will be operated and maintained by Transdev under a five-year contract worth $15·5m which was announced in July 2016.
Brookville Equipment Corp has supplied six Liberty Modern Streetcars under a $32m order signed in 2015. The 70% low-floor three-section vehicles are 20·3 m long with capacity for 125 passengers. They are fitted with lithium-ion batteries for catenary-free operation on around 60% of the route and a spur into the depot. Onboard wi-fi is provided by Rocket Fiber.
The trams will run in mixed traffic at speeds of up to 50 km/h. Services will initially operate every 20 to 25 min, with 15 min headways planed for the future.