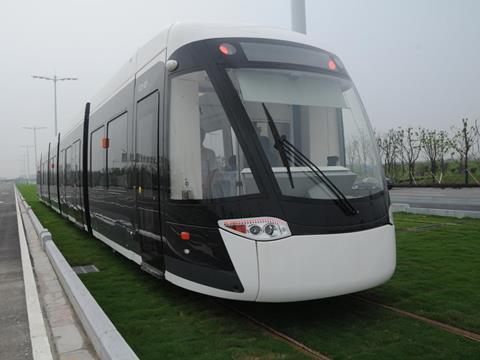 CHINA: The Qilin Line tram route in Nanjing began trial passenger operation on October 31.
Test running started last year on the 9 km route, which links Maqun station on metro Line 2 with Wang Wu Zhuang. There are 13 stops, including one elevated.
Services are operated using seven five-section low-floor trams supplied by CRRC Nanjing Puzhen based on Bombardier's Flexity 2 design and built under a 10-year technology licensing agreement between the two suppliers. Bombardier has supplied Primove lithium-ion batteries, Mitrac propulsion equipment and Flexx Urban 3000 bogies.
Each tram is equipped with two 49 kWh batteries, which are recharged through the pantograph at stops; only 10% of the route is equipped with catenary. Recharging time is 45 sec at intermediate stops and 10 min at the termini.
Eight more trams are operating on the unconnected 8 km Hexi Line, which opened on August 1 2014.