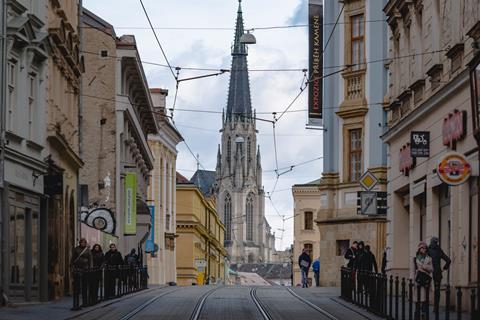 CZECH REPUBLIC: The city of Olomouc has awarded a consortium of OHL ŽS and IDS Olomouc of a contract to build a 1·3 km extension of tram routes 3 and 5 to connect Nové Sady with the Povel housing estate in the southwest.
The estimated cost of the EU co-funded project is KC469m, with work scheduled to take place between March 2021 and October 2022.
The 1·4 km first stage from Ulice Svobody to a temporary terminus at Trnková (Nové Sady) was opened on November 29 2013. This will now be extended to a new terminus at Schweitzerova.
A third stage extension to a planned park-and-ride site at Slavonín is envisaged.
Operator DPMO is also planning a new tram stabling and maintenance facility near the main railway station. Work is due to start in June and take 18-21 months to complete at an estimated cost is KC280m, including EU co-funding.