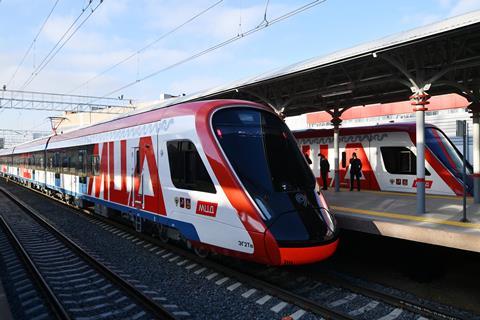 RUSSIA: The first RER-style routes linking existing radial rail routes into Moscow were inaugurated on November 21. The opening ceremony for the first two so-called Moscow Central Diameters was attended by President Vladimir Putin, Minister of Transport Yevgeny Dietrich, Moscow Mayor Sergei Sobyanin, Governor of Moscow Oblast Andrey Vorobyov and RZD CEO Oleg Belozerov.
Line D1 links Lobnya in the north with Odintsovo in the west via Dolgoprudny and Skolkovo on a 52 km alignment serving 24 stations, including eight interchanges. The end-to-end journey time is 1 h 28 min and services currently run every 30 min. Four more stations are to be built on the route by 2024.
Line D2 runs from Nakhabino in the west to Podolsk in the south serving 33 stations on an 80 km route that takes 1 h 55 min to travel end-to-end. Five more stations are to be built on Line D2 by 2024.
Services are operated by Central Suburban Passenger Company using a fleet of 23 five-car EG2Tv Ivolga electric multiple-units supplied by Transmashholding.
Headways are due to be shortened to 12 to 15 min, and in the longer term to 5 to 6 min once additional tracks are built.
Three more Central Diameter routes are due to open by 2024. Line D3 would serve 43 stations on an 88 km route between Zelenograd and Ramenskoye, while Line D4 would run 86 km from Zheleznodorozhny to Aprelevka serving 38 stations; both lines are due to open in 2021. Line D5 is to follow in 2023-24. This route would cover 75 km from Pushkino to Domodedovo, serving 39 stations.
The five routes are forecast to carry 391 million passengers a year, out of a total of 948 million suburban rail passengers forecast for the Moscow area by 2025.