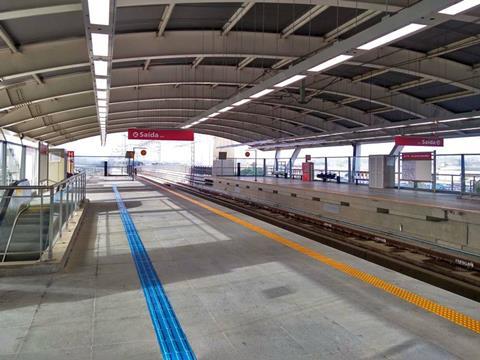 BRAZIL: São Paulo suburban operator CPTM began operating revenue services on Line 13 to Guarulhos Airport on June 4. Trial operations had started on March 31.
The 12·2 km route runs between the airport and Engenheiro Goulart, where interchange is provided with Line 12, serving one intermediate station. The mostly elevated 1 600 mm gauge line includes 4·3 km at grade and is electrified at 3 kV DC.
Services are currently operated by Class 9500 electric multiple-units supplied by Hyundai Rotem, but these are to be replaced next year with a fleet of eight eight-car EMUs from ordered CRRC Qingdao Sifang in September. Based on Type A metro train design, the 90 km/h sets will consist of four motor and four trailer cars, with capacity for 2 600 passengers.
Plans envisage extensions of Line 13 at both ends. A southwestern extension from from Engenheiro Goulart to Chácara Klabin would provide interchange with metro lines 2 and 5, and an extension west from Garulhos airport would reach Jardim São João and Bonsucesso.