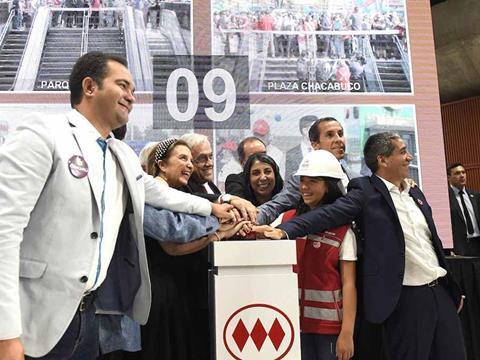 CHILE: President Sebastián Piñera officially opened the second driverless line of the Santiago metro with a ceremony at Los Libertadores station on January 22.
Line 3 links Los Libertadores with Fernando Castillo Velasco on a 21·7 km underground alignment with 18 stations. The end-to-end journey time is 30 min and ridership is forecast at 245 000 passengers per day.
Services are operated using a fleet of 22 five-car trainsets supplied CAF under a contract awarded in 2013 that also covered 15 trainsets for Line 6, which opened in 2017. The 120 m long sets have capacity for 1 285 passengers and a maximum speed of 80 km/h. CAF will maintain the sets for 20 years. Consortium partner Thales has supplied CBTC signalling designed for headways of 90 sec.
A three-station extension from Los Libertadores to Plaza de Quilicura is due to open in 2022. In the longer term, three more lines are at the planning stage.