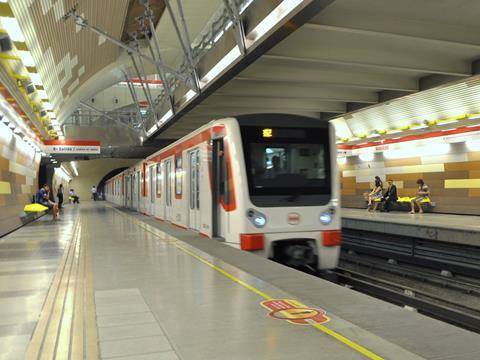 CHILE: Metro de Santiago has called tenders for construction of the first section of its new east - west Line 7. Bids are due to be submitted by August 26, with the winning bidder expected to be announced in February 2021.
Described as the largest investment that Metro de Santiago has ever made in a single route, Line 7 is priced at US$2·9bn. It is intended to parallel and relieve the east-west Line 1 which the operator says is close to saturation.
Expected to open in 2028, Line 7 will run for 25·8 km from Vitacura in the northeast to the Renca district in the northwest, serving 19 stations.
Construction has been split into three sections. Lot 1 now being tendered covers the 7·9 km northwestern leg from Brasil station in Renca to Walker Martínez, with five intermediate stations, together with a connecting spur to the depot and workshop facility.
Lot 2 continues the route through the city centre from Walker Martínez to Isidora Goyenechea via interchanges with Line 2 at Cal y Canto and Line 1 at Baquedano, while Lot 3 covers the eastern section from Isidora Goyenechea to Vitacura.
Works being tendered as part of Lot 1 include the excavation of access shafts and galleries, as well as excavation of the station caverns using the New Austrian Tunnelling Method. The running tunnels are to be bored using tunnel boring machines. While TBMs have been used in Chile for hydroelectric and mining projects, this will be the first such application on the capital's metro network.
Metro Development Plan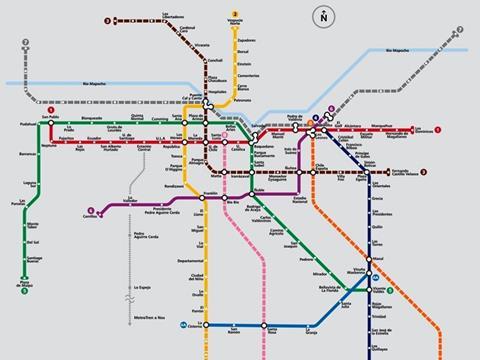 Line 7 forms a key element in the Santiago Metro Development Plan adopted in 2019.
This follows on from the completion of the automated Line 3 which opened in January 2019 and carried 55·8 million passengers in its first year of operation.
Other projects on which work is underway include a 5·1 km southern extension of Line 2 adding four stations and a 3·8 km extension of Line 3 to Plaza de Quilicura with three stations.
Preliminary engineering for three more projects with an estimated cost of more than US$4bn was approved by the Ministry of Social Development in 2019.
A 4 km southwestern extension of Line 4 from Puente Alto to Bajos de Mena would add another three stations.
The 19 km Line 8 would run southeast from an interchange with lines 1 and 6 at Los Leones, serving 14 stations in the districts of Providencia, Ñuñoa, Macul, La Florida and Puente Alto.
Line 9 would run south for 17 km from Santa Lucía on Line 1 to Avenida Gabriela serving 12 stations in San Joaquín, San Miguel, La Granja, San Ramón and La Pintana, including interchanges with lines 3, 6 and 4A.