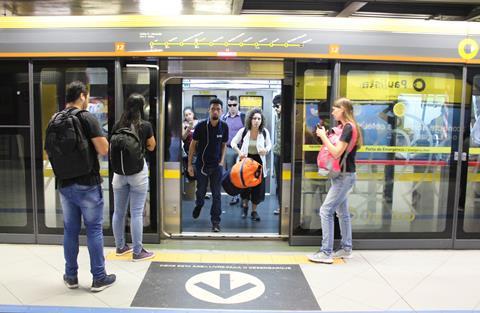 BRAZIL: The state of São Paulo has signed a formal agreement transferring the concession to build, operate and maintain São Paulo metro Line 6 from the Move São Paulo consortium to the Acciona-led Concessionária Linha Universidade, with the aim of restarting the project which has been at a standstill since 2016.
The PPP contract for construction of the 15·3 km north-south Line 6, also known as the Orange Line, was awarded to the Move São Paulo consortium in mid-2013.
Construction began in January 2015, but was suspended in September 2016 when the concessionaire ran into financial difficulties.
In December 2018 the state government decided to formally end the contract, but the parties agreed that the consortium would continue to work on site, initially until August 2019 and then until May 2020.
This provided time for the state to begin negotiations in November for Acciona to acquire a majority stake in Move São Paulo.
Line 6 will run from São Joaquim station on metro Line 1 in the city centre to Brasilândia in the northwest, with 15 stations serving destinations including several universities.
Around 15% of the construction has so far been completed, and work is expected to take a further five years. This will be followed by 19 years of operation and maintenance of the infrastructure.
Announcing the transfer of the concession on October 5, Acciona said the R$15bn Orange Line was the largest public-private infrastructure project under development in Latin America, and the largest infrastructure project the company has taken on in its history.
It said it had the technical expertise and experience of urban transport projects needed for Line 6, having undertaken 44 projects in seven countries, built more than 3 000 km of railway and metro track and completed 600 km of tunnels.