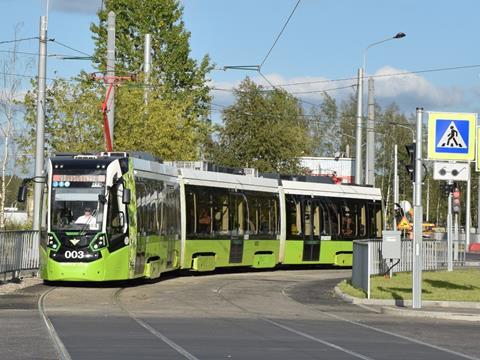 RUSSIA: The St Petersburg city government signed a PPP concession for the construction of a tram route on October 11.
The 30-year design-build-operate concession with the Baltnedvizhservis consortium of Gazprombank and ABZ-1 Group covers a 21 km route with 15 stops to be built in two phases.
The first phase would link Kupchino metro station at the southern end of Line 2 to Shushary. Most of this would be double-track, with a single-track loop serving Shushary. Opening of the initial section is scheduled for October 2023. The second phase, due to open a year later, would extend the route south from Shushary to Slavyanka.
The two residential districts have a combined population of 120 000 and are still growing. Ridership on the new tram route is forecast at 10 million passengers a year.
Infrastructure works excluding the depot are estimated to cost 21·5bn roubles, with a further 2·7bn roubles to be spent on a fleet of 21 three-section low-floor trams with a capacity of at least 215 passengers. These would be stabled at a depot south of Shushary.
The estimated commercial speed will be 25 km/h, giving an end-to-end journey time of 30 to 35 min. Services would run at least every 5 min, and would be integrated into the fare structure of the existing tram network.
None of the planned route would use existing tram infrastructure. This contrasts with the Chizhik route, which is the city's only operational tram route developed and operated under a PPP concession.