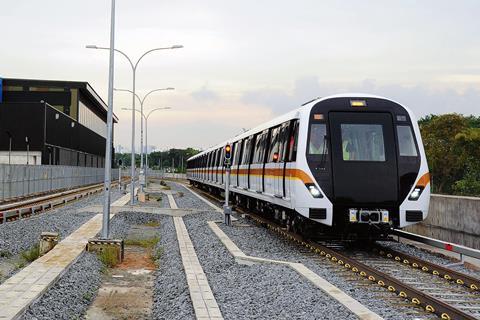 SINGAPORE: The first 3·2 km section of SMRT's Thomson–East Coast Line opened for passenger service on January 31.
This adds three stations to the SMRT network: Woodlands North, Woodlands – which acts an interchange with the North South Line – and Woodlands South.
When finished, the line will total 43 km with 32 stations.The remaining five sections of the line are expected to be completed by the end of 2024, with the Founder's Memorial infill station to open in 2027.
A further extension towards Changi Airport is planned for completion by 2040.
The Thomson–East Coast Line is equipped with Alstom's Urbalis 400 signalling and platform screen doors. It is operated using four-car aluminium-bodied driverless CT251 trainsets capable of transporting up to 1 280 people at 100 km/h, supplied by a consortium of Kawasaki Heavy Industries and CRRC Qingdao Sifang.