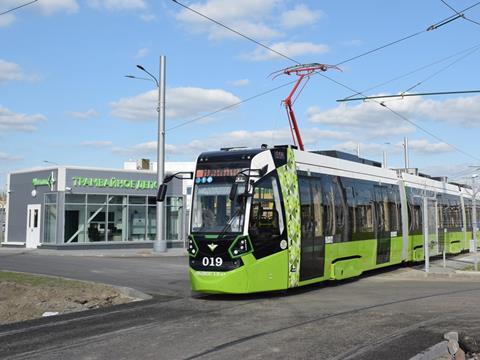 RUSSIA: The Chizhik fast tram route in St Petersburg has been completed, with revenue services on the third section commencing on September 1.
The final section includes 4·6 km of modernised and 1·8 km of new double-track alignment, as well as two turning loops, a stub terminus and a junction with the existing network.
Routes 8, 59, 63 and 64 share a common section between Ladozhskaya metro station and Prospekt Kosygina, where there is a tram every 2 min.
Chizhik is the city's first tram route to be operated by a private company. The Transportnaya Koncessionnaya Kompanya consortium of Lider Group and LSR Group is managing it under a 30-year build-operate-transfer PPP concession signed in 2016. Services are operated with a fleet of 23 Stadler Metelitsa trams, which are stabled in a depot built as part of the concession.
Initially, the first phase was due to open in August 2017, with the whole project to be completed in the fourth quarter of 2018. However, following delays the first phase only opened in March last year.
Ridership is forecast at 33·2 million passengers a year across the four routes. Two existing routes operated by city operator Gorelektrotrans could be extended eastwards from Granitnaya Ulitsa to Ladozhskaya and operate jointly with TKK services.