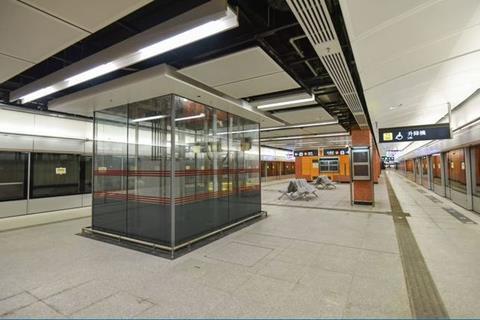 CHINA: The first section of Hong Kong MTR's long-awaited Shatin – Central Link project will open for revenue service on February 14, the operator announced on January 17.
The extension from Tai Wai to Kai Tak forms part of the east-west link which will eventually connect the Ma On Shan Line with the West Rail line to Tuen Mun. This will create an east-west corridor through Kowloon and the New Territories, to be known as the Tuen Ma Line.
MTR Corp has been undertaking tests on the first phase since October, and Secretary for Transport & Housing Frank Chan said the government's Electrical & Mechanical Services Department had now confirmed that the line conformed to the necessary operational safety standards. MTR expects to start running a full ghost service by the end of January, with all trains running through but not carrying passengers.
The extension to Kai Tak will serve intermediate stations at Hin Keng and Diamond Hill, where interchange is provided to MTR's Kwun Tong metro line. This is expected to relieve pressure on the East Rail route between Tai Wai and the existing interchange at Kowloon Tong. According to Chan, trains will operate at 3½ min headways at peak time. Journey time from Tai Wai to Diamond Hill will be reduced from 17 min to 9 min.
Opening of the remaining section of the east-west link has been delayed because of construction problems at Hung Hom. Chan told local media that 'MTR's team and its consultants and contractors are working really hard to expedite the work', with the aim of having the Tai Wai - Hung Hom section open by the end of 2021, including the intermediate stations at Sung Wong Toi, To Kwa Wan and Ho Ma Tin. 'We would love to have it commissioned earlier, but it all depends how smooth progress is', he explained.