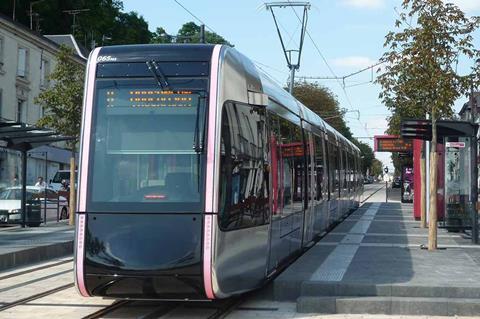 FRANCE: A consortium of Systra, Suez Group's consulting business Safège and architectural firms Urbanica and L'Heudé have been awarded the project management contract for Tours tram Line B, covering design studies and supervision of construction works and subsequent testing.
Preliminary studies for the proposed line have already bee undertaken by Richez Associés on behalf of Syndicat des Mobilités de Touraine. A planning inquiry is planned for 2022, ahead of the start of construction works in 2023 for opening in 2025. Future ridership is estimated at 42 000 trips/day
The 15 km Line B will start at La Riche in the west and run east through the city centre, turning south to run to Chambray-lès-Tours in the southeast of the city. There will be 27 stops serving destinations including education and medical facilities, four park-and-ride sites and a future 'eco-district' on the outskirts of the city.
Urbanica will lead the architectural, urban and landscape design aspects of the project, which will involve redesigning major locations including Place Jean-Jaurès and Boulevard Béranger where the trams will run alongside the flower market.
The city's bus network will be revised, with the tramway taking over the alignment of the 2 Tempo bus rapid transit service. The depot on the north-south Line A which opened in 2013 will also be expanded as part of the Line B project.
'In 2021, many tramway design contracts will come to an end,' said Sylvie Cassan, Sales Director at Systra France. 'One year after the municipal elections, the local authorities are in a position to translate their promises into action, and tramways, which will take almost a whole term of office to build, are a priority.'