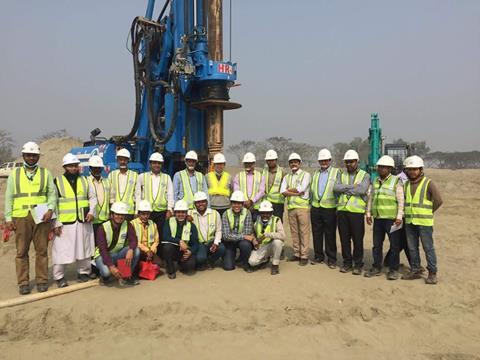 BANGLADESH: Tracklaying has started on Dhaka's first metro line, following a ceremony at the Uttara depot site attended by Minister of Road Transport & Bridges Obaidul Quader and Dhaka Mass Transit Co Managing Director M A N Siddique.
Running from Uttara in the northwest of the capital to Motijheel in the city centre, the 19·9 km elevated Line 6 is being developed by DMTC, with 75% of the 220bn taka cost being funded through a loan from Japan International Co-operation Agency. Serving 16 stations, it is currently expected to open by the end of 2021. Design capacity is put at 60 000 passengers/h in each direction.
Trackwork, CBTC and the 1·5 kV DC overhead catenary are being supplied by a joint venture of Marubeni and Larsen & Toubro, under a ¥55bn railway systems contract awarded in June 2018. Kawasaki Heavy Industries and Mitsubishi are supplying a fleet of 24 six-car trainsets under a ¥40bn contract which includes the fitting out of the maintenance depot.
According to the minister, around 8·5 km of viaduct for Line 6 has now been completed, with DMTC reporting that work was about 40% complete by the end of December 2019. Tracklaying will initially be concentrated on the depot area before heading south towards the city. The first Japanese-built trainset is expected to be delivered in June.
Explaining that the government hopes to complete six metro lines totalling 175 route-km by 2030, Quader said construction of lines 1 and 5 would begin 'very soon'. Line 1 would run underground from the city's main station at Kamalapur east to the international airport, with a branch running south from Notun Bazar to Purbachal bringing the total length to 31 km. The 20 km Line 5 would start from Valara, and run north in tunnel from an interchange with Line 1 at Notun Bazar to Gabtoli and on viaduct from there to Hemayetpur.