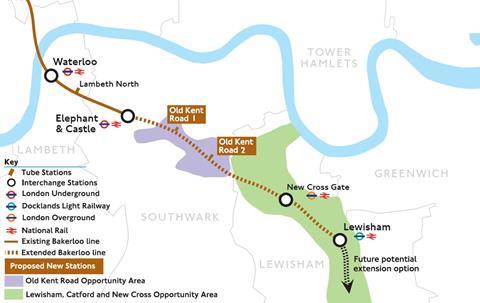 UK: Transport for London has begun public consultation on 'the most detailed proposals yet' for a southeastern extension of London Underground's Bakerloo Line from Elephant & Castle to Lewisham via Old Kent Road and New Cross Gate.
Previous consultations focused on route options and station and shaft locations. The current process running for 10 weeks from October 14 will seek feedback on:
the route of the tunnels, including a 'shorter, quicker' route between Lambeth North and Elephant & Castle which is being consulted on for the first time;
locations for the work sites, with TfL's preferred primary site being at New Cross Gate with a secondary work site at the Old Kent Road 1 station;
development of an integrated station entrance at Elephant & Castle, with the Bakerloo and Northern Line ticket halls being combined as part of a planned upgrade to the Northern Line ticket hall to be delivered as part of a shopping centre development;
a possible extension of the Bakerloo Line beyond Lewisham to Hayes and Beckenham Junction, involving the conversion of a Network Rail line.
the names of the two proposed stations on Old Kent Road. The first at the junction with Dunton Road could be named Old Kent Road or Burgess Park. The second would be at the junction of Old Kent Road and Asylum Road, with Old Kent Road or Asylum suggested.
'This consultation will help us further shape our plans for the Bakerloo line extension which will play a vital part in supporting London's population growth by providing capacity for at least 60 000 extra journeys in both the morning and evening peak periods', said Alex Williams, TfL's Director of City Planning. 'This latest consultation is a further opportunity for people to have their say on a scheme which would unlock growth and radically improve customer journeys in southeast London.'
Back the Bakerloo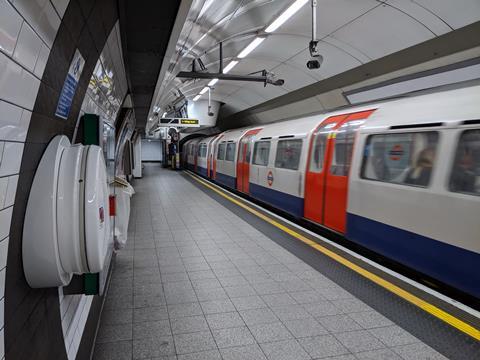 Legal powers and funding from the proposed extension are not yet in place, and completion is envisaged by the early 2030s at the earliest.
Work could be undertaken in parallel with an extensive modernisation of the existing line including fleet renewal.
The Back the Bakerloo group of politicians, business groups and housing developers has called on the government to commit to working with TfL to develop a funding package. The group said the projects could help to deliver up to 110 000 new homes, including 20 000 in the Old Kent Road Opportunity Area and 27 500 in New Cross, Lewisham, Catford and Deptford.
'The Bakerloo Line Extension would be transformational for Lewisham residents, providing better connectivity to the city and helping to deliver thousands of new social homes and jobs across the borough', said Mayor of Lewisham Damien Egan.
Leader of Westminster City Council Nickie Aiken said 'the whole of London stands to benefit from this expansion and I am happy to Back the Bakerloo.'