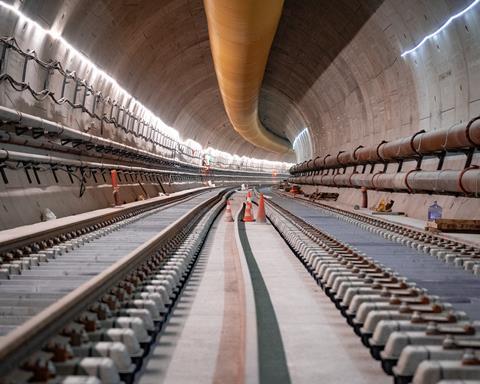 FRANCE: Project promoter Société du Grand Paris has awarded the main rail infrastructure contract for Grand Paris Express automated metro Line 16 to a consortium of TSO, TSO Caténaires and Eiffage Rail.
Running entirely underground, the 27·5 km Line 16 is due to be completed by 2030.
The Lot 2-3 contract valued at €111m covers the supply and installation of trackwork and rigid overhead line equipment on a 16·5 km section between Aulnay and Noisy-Champs, along with other elements such as footbridges and cable trays. Work is expected to begin in mid-2023 and be finished in the first half of 2024.
The TSO-led consortium had already been awarded the rail systems contract for Line 16 Lot 1. It has also been selected to undertake rail infrastructure works on a 2·4 km of Line 17 North between Le Bourget Aéroport and Le Bourget RER. This project is due to begin in September 2022 and should be completed in the first half of 2023.
TSO says it will build on experience with other aspects of the GPE programme and the EOLE extension of RER Line E between Paris Saint-Lazare and Nanterre.
TSO's parent group NGE is undertaking civil engineering works for Line 16 Lot 2 in a joint venture with Webuild. Awarded in 2018, this contract covers 11·1 km of tunnel between Aulnay-sous-Bois and Chelles, where tunnel boring machines 'Mireille' and 'Houda' are currently at work, plus the construction of four stations.
Citing the Crossrail project in the UK and the Ferrocarril Central scheme in Uruguay, TSO Managing Director Gilles Philibert said the company was 'once again positioning itself as a major player in the execution of large rail projects'.