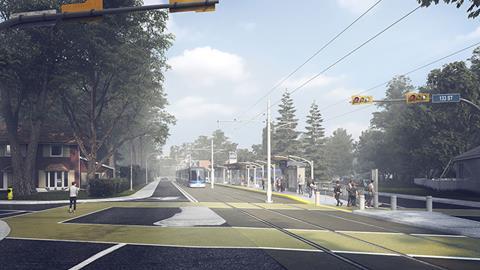 CANADA: The City of Edmonton has selected Marigold Infrastructure Partners as 'preferred proponent' for a PPP contract to design, build and partially finance the 14 km Valley Line West light rail extension.
Following final discussions, the contract is expected to be signed off by the end of the year, allowing construction to begin in 2021. The extension is expected to take five or six years to complete.
Backed by funding from the Canadian government and the province of Alberta, the C$2·6bn Valley Line West forms the second phase of the east-west low-floor light rail line being built to complement the city's high-floor Metro and Capital lines which run north, northeast and south from the city centre.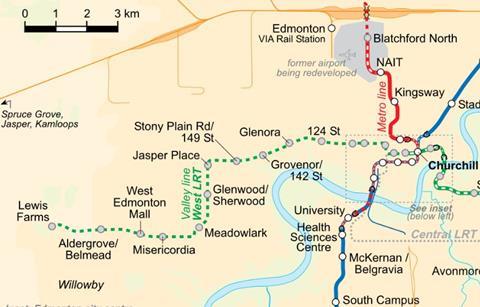 Valley Line Southeast is being delivered by TransEd Partners at a total cost of C$1·8bn, and due to open in 2021. This will run for 13 km from the city centre to Mill Woods via the Quarters Downtown redevelopment zone and a new Tawatinâ Bridge across the North Saskatchewan River, serving 11 stops. It will interchange with the Metro and Capital lines at Churchill Square. Valley Line West will continue the route from the city centre to West Edmonton Mall and Lewis Farms via Glenora and Meadowlark, adding 14 ground-level and two elevated stops.
Marigold Infrastructure Partners brings together Colas, Parsons, Standard General, Francl Architecture, Fast & Epp and Stantec. It was one of three consortia shortlisted for the contract in March, along with an Aecon-Dragados joint venture which included Sener and WSP Canada, and the UrbanTransit joint venture of Astaldi Canada, Webuild (formerly Salini-Impregilo), FCC Construccion and IBI Group.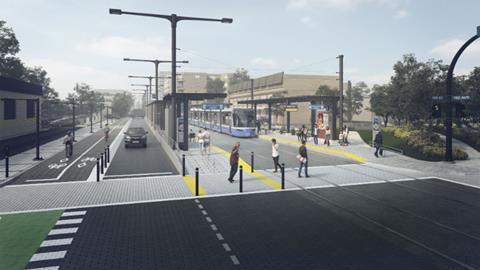 Having evaluated both technical and financial proposals, the city said it had selected the team with the lowest financial bid. 'We'd like to thank each of our proponent teams for participating in our procurement', said Valley Line Director Brad Smid on October 30. 'We're confident our rigorous competitive process has culminated in the selection of a strong team to deliver the Valley Line West LRT at good value for Edmontonians.'
According to the city, the project will play a key role in contributing to the region's economic recovery after the Covid-19 pandemic. It estimates that construction of Valley Line West will generate 8 800 jobs in the province and 2 700 elsewhere in Canada.