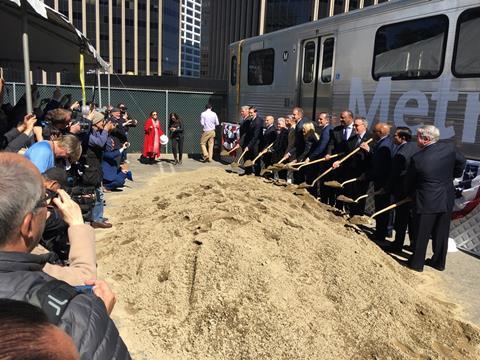 USA: A groundbreaking ceremony for the second phase of the Purple metro line extension in Los Angeles took place on February 23.
Scheduled to open in 2025, Section 2 would run for 4·2 km from Wilshire/La Cienega to Century City/Constellation, with an intermediate station at Wilshire/Rodeo. A joint venture of Tutor Perini and O&G is building this section under a $1·37bn contract.
Preparatory work including utility relocation has started, with major construction scheduled to begin in the spring. A tunnel boring machine is to be lowered at the planned Century City/Constellation station, and major work at the planned Wilshire/Rodeo station is expected to begin at the end of 2018 or early 2019.
The first section of the Purple Line extension, between Wilshire/Western and Wilshire/La Cienega, is now 30% complete and scheduled to open in 2023. The third section from Century City to Westwood/VA Hospital is planned to open in 2026, in time for the 2028 Olympic & Paralympic Games.
Ridership on the full extension is forecast at 49 300 passengers per weekday. Trains are due to run every 4 min in the peaks and every 10 min off-peak.
The entire Purple Line Extension project is expected to receive $3·6bn in federal grants. This includes $1·5bn in federal grants and loans for Section 2, which has a total budget of $2·53bn.