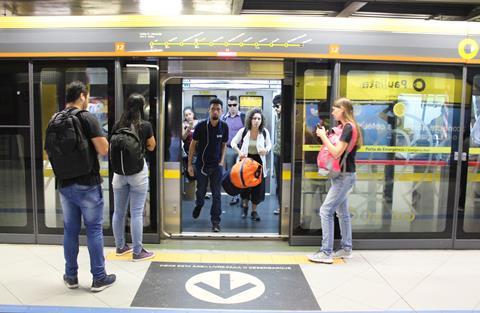 BRAZIL: São Paulo State Transport Secretary Alexandre Baldy has confirmed that Acciona intends to buy a majority stake in the Move São Paulo consortium, so that construction of São Paulo metro Line 6 can resume.
Construction of the 15·3 km north-south route also known as the Orange Line started in January 2015, a year and a half after the state government awarded a PPP concession to Move São Paulo, made up of Odebrecht Transport, Construtora Queiroz Galvão, UTC Participações and Eco Realty Investment Fund.
Move São Paulo was required to fund half of the construction costs and operate the line for 25 years. Work was suspended in September 2016, with the concessionaire complaining of financial difficulties. The contract was eventually terminated in December 2018, but the consortium retained responsibility for the worksites until August 2019; this was later extended to November and has now been extended for three more months while the state considers Acciona's offer.
Line 6 is intended to link Brasilândia in the northwest to São Joaquim station on metro Line 1 in the city centre. So far, around 15% of the work has been completed. According to Baldy, construction would be completed in four years from the resumption of work.
Test running has commenced on the three-station extension of monorail Line 15 between Jardim Planalto and São Mateus, with opening expected by the end of the year. A further one-station extension from São Mateus to Jardim Colonial now under construction is due to be completed by 2021.