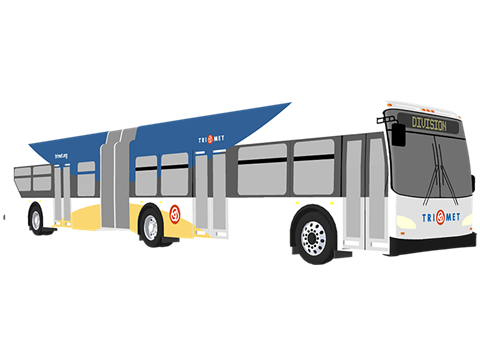 USA: Portland transport authority TriMet has appointed WSP USA as prime engineering consultant to design the Division Transit Project, a proposed 22 km bus rapid transit route which is intended to improve links between central Portland and the city of Gresham via Division Street.
The route would serve Portland State University and Oregon Health Sciences University via Lincoln Street, the Harbor Structure and the Tilikum Crossing. Within the city of Portland, and beyond 60th Avenue, there would be a protected cycle lane.
Construction of the $175m BRT corridor is scheduled to begin in late 2018 for completion in spring 2021. It would involve the provision of around 80 boarding platforms at 40 stops, each with a shelter, furnishings, signage and lighting. Junctions would be remodelled, and traffic lights would give buses priority.
TriMet expects to choose a bus supplier in 2018. The articulated vehicles would offer level boarding for wheelchairs, space for bicycles and three-door loading to minise dwell times.
TriMet envisages that the overall effect of the project would be to reduce travel times by up to 20%, with buses running every 15 min, and more often during the peaks.