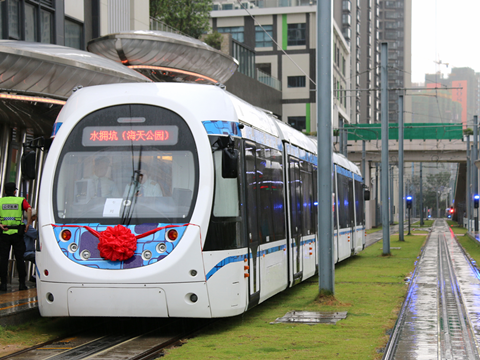 CHINA: Revenue service on the Zhuhai tramway began on June 6. The 8·9 km line with 14 stops runs from Haitan Park to Shangchong, where depot is located. Trial running had started in November 2014.
Services are operated with 10 five-section 100% low-floor Sirio trams supplied under a 10-year licensing agreement signed between AnsaldoBreda (now Hitachi Rail Italy) and CNR Dalian (now CRRC Dalian) in 2012. The first two trams were produced at AnsaldoBreda's factory in Pistoia in Italy, with the rest assembled in Dalian.
The China Tramway Corp joint venture of CNR Dalian and Taiwan General Resources Co installed TramWave ground-level power supply under licence from Ansaldo STS to enable catenary-free operation. This was specified because of the high incidence of typhoons in the region.
This consists of 3 m to 5 m long modular trough sections embedded between the running rails, enclosing a series of 500 mm steel contact plates. A retractable copper and graphite shoe on the tram bogie uses hybrid permanent magnets to lift the contact plates and complete a circuit which channels electricity to the tram. Only the section underneath the vehicle is energised at any given time.