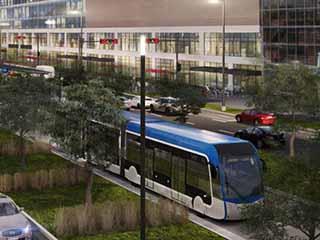 CANADA: Prime Minister Justin Trudeau and Québec's Minister of Transport François Bonnardel announced joint funding to establish tram and bus rapid transit routes in Québec City on August 19.
The Québec provincial government will provide C$1·8bn, with a further C$1·2bn coming from the federal government's Investing in Canada programme and C$300m from the City of Québec.
A 23 km tram line with 35 stops is to be built between Charlesbourg in the east and Le Gendre in the west. This would include two underground sections of 2·6 km and 0·9 km. It is envisaged that services would run between 05.00 and 01.00, every 3 to 6 min in the peaks and 10 to 15 min off-peak, giving a line capacity of 5 200 passengers/h per direction. A fleet of 43 m long trams with capacity for 260 passengers is to be procured.
Two BRT lines are to be developed, covering a total length of 15 km and 21 stops. Services would be operated using a fleet of 24 m long double-articulated electric buses with capacity for 150 passengers.
The funding would also be used to develop 16 km of dedicated bus lanes for the conventional Métrobus network, and to build four park-and-ride sites.