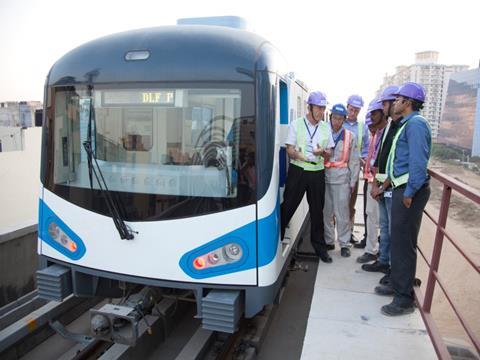 INDIA: Passenger services on the Rapid MetroRail Gurgaon light metro began on November 14. The 6·1 km standard-gauge line runs on an elevated alignment with six stations, linking Gurgaon Cyber City to the Delhi metro network at Sikanderpur on Line 2. Ticketing is integrated with Delhi metro. Design capacity of the line is 30 000 passengers per hour.
The project was developed by the RMGL joint venture of ITNL ENSO Rail Systems, IL&FS Transportation Networks and property developer DLF. Construction cost was Rs10·88bn.
Each of the seven aluminium-bodied trains has a capacity of 800 passengers. Top speed is 80 km/h and the peak headway is 120 sec.
Siemens has installed Sicas ECC type electronic interlocking, the LZB 700 M automatic train control system and Vicos OC 501 ATS. Siemens also electrified the line at 750 V DC using third-rail.
The line is to be extended south by 7 km by the end of 2015. Siemens is also the contractor for this extension.