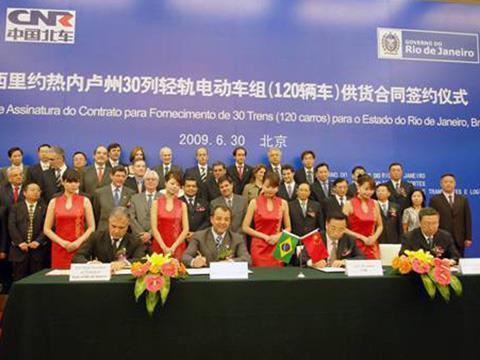 BRAZIL: Two contracts for suburban and metro trains were signed during a visit to China by Sérgio Cabral, Governor of the state of Rio de Janeiro.
A US$165m contract partly funded though the World Bank was inked with China National Machinery Import & Export Corp on June 30. This covers the supply of 30 four-car 3 kV EMUs for suburban operator SuperVia. The 1 600 mm gauge units will be built at China Northern's Changchun plant, and will have stainless steel bodies and a top speed of 100 km/h. CMC said the deal marked China's entry to the Latin American rail market, which it feels has been dominated by western suppliers.
The second order was placed with the same Chinese companies by Metrô Rio. The contract covers 19 six-car metro trains, and is part of a US$1·15bn investment package including two new stations and an extension of Line 2.