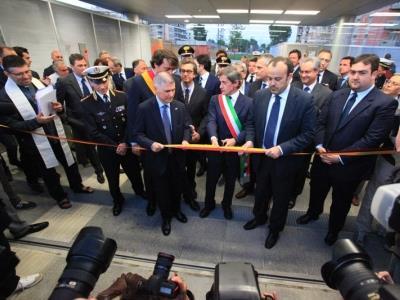 ITALY: Metropolitana di Roma has started commercial services on Line B1, which forms a northern branch off the existing Line B between Laurentina and Rebibbia. Diverging from a junction at Bologna, Line B1 currently runs for 3·9 km to Conca D'Oro.
Designed to carry 24 000 passengers/h, the branch took seven years to build at a cost of €513m. Opened on June 13, it currently serves three new stations at Sant'Agnese/Annibaliano, Viale Libia and Conca D'Oro.
A further 1·1 km extension from Conca D'Oro to Ionio, now nearing completion at a cost of €220m, is due to open next year when Metropolitana de Roma expects to receive 15 more trainsets from Spanish supplier CAF.
Construction of Line B1 entailed complex engineering techniques with ground freezing in order to pass at a depth of up to 36 m below the Aniene River and to avoid disturbing historic buildings. Two separate running tunnels, each of 7 m diameter, were cut using a Herrenknecht tunnel boring machine.
The new stations offer car parks and retail facilities and set high architectural standards; at Viale Libia a light shaft allows daylight to penetrate deep below ground.