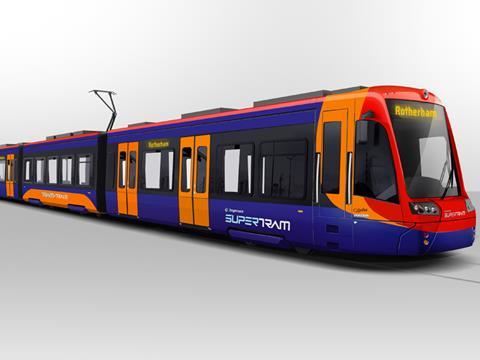 UK: A firm contract for Vossloh España to supply seven vehicles for the Sheffield - Rotherham train-tram pilot scheme was signed on June 19.
The £58m project will provide a tram-train service between Sheffield and Rotherham Parkgate using a new 400 m connection between the existing Supertram network and a Network Rail freight line which is to be electrified at 750 V DC.
The tram-trains are to be built at Vossloh's Albuixech plant near Valencia in Spain and are scheduled to enter service in 2015. They will have Vossloh Kiepe equipment suitable for both 750 V DC and 25 kV 50 Hz power supplies, to allow for use under future main line electrification.
The tram-train pilot project is being led by South Yorkshire Passenger Transport Executive, which has placed the rolling stock order, in partnership with the Department for Transport, Network Rail, franchised train operator Northern Rail which was responsible for selecting Vossloh to supply the vehicles, and tram operator Stagecoach Supertram.
Stagecoach Supertram was recently visited by 15 National Union of Road Transport Workers members from Lagos in Nigeria, who were in Sheffield to study how public transport operates in the UK. 'We are only too happy to share our good practice with worldwide business leaders and continue to develop and strengthen these relationships', said SYPTE Deputy Interim Director General David Young.