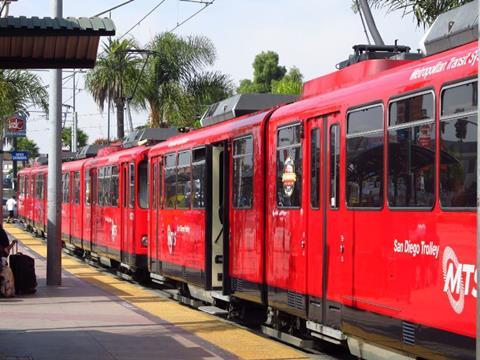 USA: The Federal Transit Administration and San Diego Association of Governments signed an agreement on September 14 for a $1·04bn federal grant towards the construction of a light rail extension.
The Full Funding Grant Agreement would see the funds disbursed over 10 years, with an initial tranche of $100m. It is coming from the FTA's Capital Investment Grant programme and will cover around half of the $2·17bn total project cost. The remaining half is to be funded through the TransNet 0·5% sales tax for transport projects.
Preparatory work for the Mid-Coast Trolley extension of the Blue Line is already underway. The 17·6 km extension would run from Old Town to UC San Diego with nine stops. Main construction work is expected to begin next month, with passenger services due to start in 2021. Ridership is estimated at 24 600 passenger-journeys per weekday.
'The Mid-Coast Trolley will bring fast, reliable transit to the places where it's most needed, including our largest research university and biggest employment centre', said SANDAG Chair Ron Roberts.