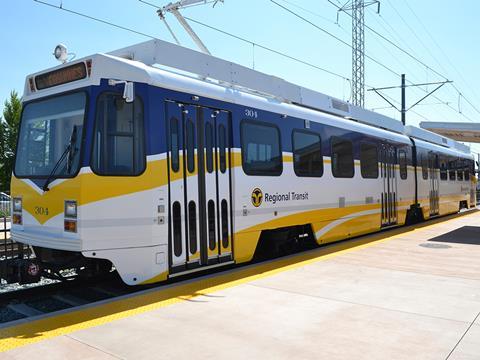 USA: The first of 21 light rail vehicles to be refurbished by Siemens for Sacramento Regional Transit District is scheduled to re-enter service during September, operating on the Blue Line extension to Cosumnes River College which opened in August.
The high-floor LRVs were originally built by Canada's Urban Transportation Development Corp for Santa Clara Valley Transportation Authority which operated them in San Jose between 1987 and 2003, when they were acquired by RT and put into storage.
The refurbishment work being undertaken at Siemens' Sacramento rolling stock plant and RT's depot includes overhauling the bogies, event recorders, auxiliary power and communications systems, and updating the heating and ventilation and exterior bodywork. This is expected to give the vehicles a further 15 years of additional useful life.
RT received $7·1m in American Recovery & Reinvestment Act federal economic stimulus funding towards the project. 'The rollout of these refurbished light rail vehicles shows the power of local partnerships,' said Congresswoman Doris Matsui. 'RT's work with Siemens has allowed federal stimulus funds and local taxpayer dollars to improve RT's level of service, while also creating jobs at Siemens' Sacramento rail manufacturing hub.'
RT also operates 36 Siemens LRVs purchased in 1986-87, as well as 40 CAF cars.